Hazel Grove Cricket Club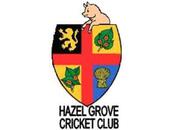 Hazel Grove Cricket Club
Members of the Derbyshire and Cheshire Cricket League
News Report
Under 17s Match Report
Author: Marc Wilkinson, 23/07/18
Hollingworth batted first and Grove were soon into the wickets as Colm Nunn picked up 3 wickets for 2 runs in his 3 overs.


Things got better for Nunn as he picked up 3 catches as well.

Grove spread their bowling out with every outfield player having a bowl but wickets fell at regular intervals as Hollingworths innings ended in the 19th over, posting a total of 35.

This was a young Hollingworth side and they struggled against a Grove side that contain a good number of players with a few years senior cricket under their belts, Hollingworths time will come as their players mature and gain more experience.

Grove knocked off the total in the 5th over without any loss, Wilkinson 20 not out and Burnard 18 not out.

Solid win, big game against Hawk Green on Thursday, Grove having knocked Hawk out of the cup last month know that this will be a stern test against a good side

Get yourselves to Wesley Park to cheers the lads on.
Follow the site to get the latest news and results straight to your email